Ionic Footbath
We offer a foot spa experience that is both highly relaxing and beneficial to your overall health. Come restore your body to perfect health!


We live in a really toxic world. 85% of all ailments are caused by pollutants and toxins that enter into our bodies and compromise our immune system, making us susceptible to diseases. Sadly, these toxins are everywhere; in the food we eat, the air we breathe, and the unhealthy lifestyle choices. While not much can be done about these harmful substances entering our bodies, the Ionic foot detox bath can help release and gently draw out the contaminants in your body, which in turn helps restore the body to optimal health. At 5280 Laser Aesthetics, we also offer laser fat removal and other related services.
The ionic foot bath treatment session takes about 30 minutes. During this time, both bare feet are submerged in a tub containing Himalayan salts, warm water, and negative ions that gently draw out the oppositely charged free radicals (toxins) and through strong osmotic pressure pull out the neutralized radicals out of your body through the bottom of the feet.

Below is a pricelist of the various procedures performed at 5280 Laser Aesthetics.
| | |
| --- | --- |
| Ionic Foot Bath - 10 Session Special | |
Ionic Foot Bath Therapy Removes the Body's Toxins
● Reduce pain and inflammation
● Remove toxins
● Restore vitality
● Increase and balance energy
● Improve organ function
● Build a stronger immune system
● Clear skin
● Increase mental clarity
Ionic Foot Detox Color Chart: What Does it Mean?
As the toxins leave the body, they come together and collect in the water, and this is what leads to the color change of the ionic bath. The mucus and fat that are seen in the water after the process represents the neutralized toxins that left the body. Below is an ionic foot detox color chart showing what you can expect to see during an Ion Cleanse.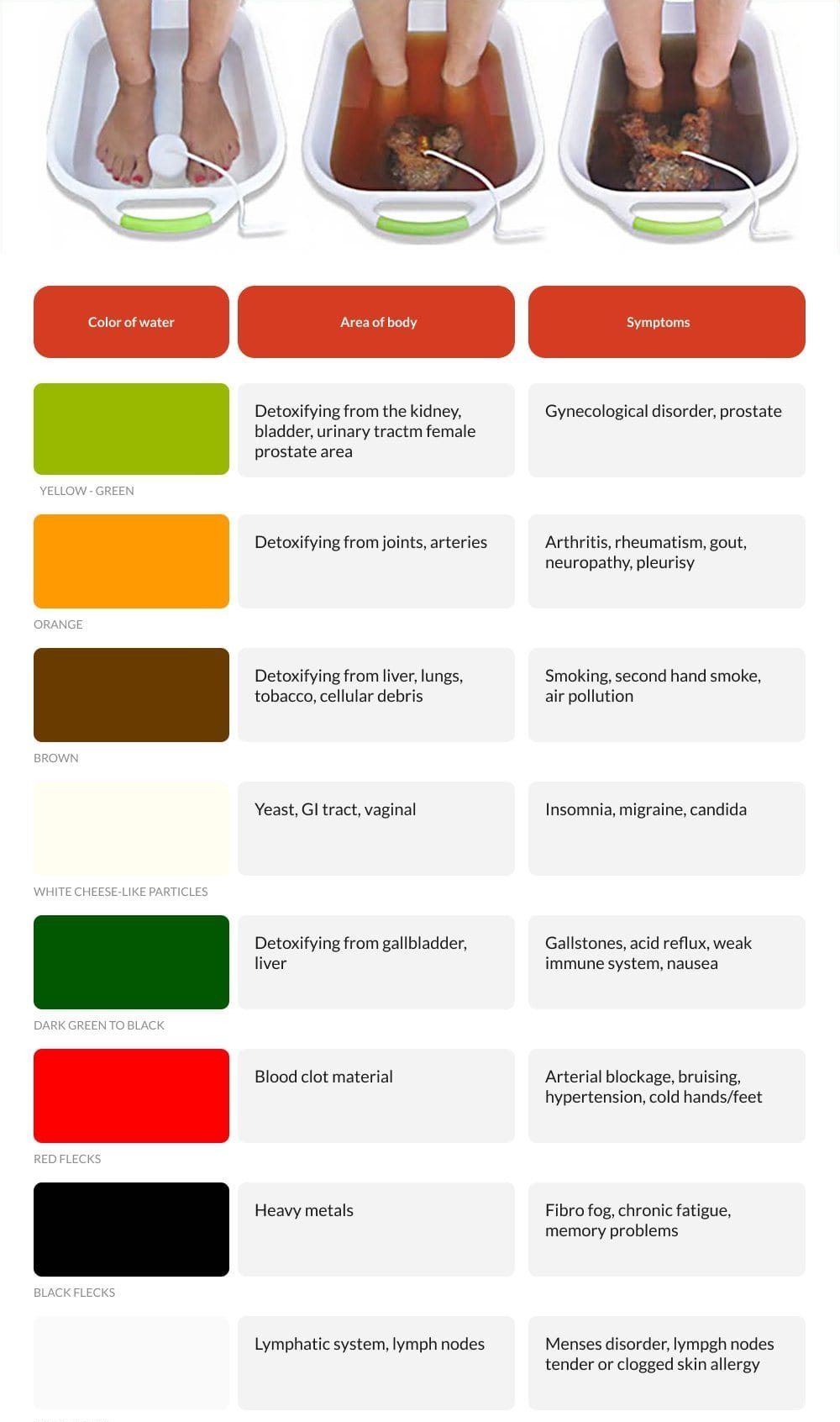 5280 Laser Aesthetics is your go-to foot detox center in Thornton, Boulder, Northglenn, Broomfield, and Westminster, CO. Call or visit us today and our professionals will be ready to restore your health through a relaxing session of ionic foot bath.
Looking for Laser Fat Removal Services Near Me